---
University of Notre Dame
- Photo: Francis P. Clark -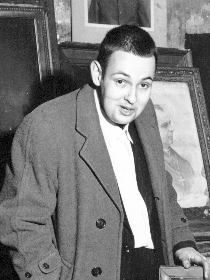 Introduction
During the past several decades, interest in parish histories has grown considerably in America. Throughout the United States, pastors and parishioners have become more keenly aware of the need to preserve the history of their parishes in written form. Consequently, the publication of parish histories has flourished. In 1986, the first edition of this work was issued to facilitate access to the research collections of parish histories at the University of Notre Dame. The second edition, revised and considerably enlarged, includes more than 500 additional entries for parish histories received during 1986 and 1987. The revised edition includes a total of 3973 records of parish histories.

The Parish History Collection represents a specialized resource in the holdings of both The Archives of the University of Notre Dame and The Theodore M. Hesburgh Library. The core of both collections was originally formed through the dedicated and persistent efforts of Francis P. Clark (1936-1979). This directory serves as a finding aid to parish histories in both the University Archives and the Library collections. The directory includes occasional items which are not strictly parish histories, as, for example, histories of schools, religious congregations, and some diocesan histories. It should be noted that the University Archives holds works on priests, religious orders, lay organizations, dioceses, and schools often affiliated with the parishes as separately organized subject collections. These works have not been included in this directory.

In May, 1986, William Kevin Cawley, Archivist, consolidated the holdings of the University Archives and partial holdings of the Library into a single listing. Dr. Cawley continues to manage the combined database. As the collections continue to expand, updated editions of this directory will be issued periodically.
Scope
The Library collection contains printed parish histories, and some newspaper accounts, of more than 1300 Catholic parishes throughout the United States and other countries. The Library collection continues to expand through solicitation, purchase, and gifts received. The parish history collection in the Archives contains information on more thatn 2000 parishes throughout the United States. The major portion of the Archives collection documents parishes in the midwest and the Ohio River Valley. The microfilm segment of the Archives collection sometimes duplicates printed items.

Both collections contain books, pamphlets, newspapers clippings, and ephemeral materials which frequently describe the history of the parish from its inception to the date of publication of the work. Frequently parish histories celebrate the anniversary of the founding of a parish or the dedication of a church. Also included are jubilee celebrations, financial statements, invitatiions, general histories, directories, bulletins, and some photographs which are mainly from the Indiana and Kentucky region. Most items in the collection reflect activities of parishes beginning in the mid-nineteenth century. Rarely do items pertain to parishes prior to 1800.
Format
This directory is arranged alphabetically by country or state; within state, by city; and within city, by name of parish. Entries may also include the span of years covered by the history. The predominant ethnic group associated with the parish may also be indicated, as, for example, Italian, German, Polish, or Czech. The collation, or number of pages, and the call number may also be indicated for some works.

All Library parish histories are designated by CAPH (Catholic Americana: Parish History.) If the parish history has been cataloged, the call number is given. All other codes, such as PPHC (Printed Parish History Collection) or M5536 (Microfilm 5536) indicate holdings in the University Archives. A complete list of codes may be found at the end of this introduction.

The following entries may serve as examples:

STATE/CITY - PARISH - DATES - ETHNIC GROUP - LOCATION - CALL NUMBER
CA Canoga Park - Our Lady of the Valley - 1924-1974 - - PPHC127 -
CA Fullerton - St Philip Benizi - - - 46p - CAPH

The first entry above indicates that material on Our Lady of the Valley Parish, Canoga Park, California, ranging from 1924-1974, is located in the University Archives in the Printed Parish History Collection. The designation 127 following the location code indicates the box number. The second entry above indicates that the parish history of St. Philip Benizi, Fullerton, California, is located in the CAtholic Americana Parish History Collection in the Library.

In some instances, both the University Archives and the Library may hold the same work. For example:

STATE/CITY - PARISH - DATES - ETHNIC GROUP - LOCATION - CALL NUMBER
CA Los Angeles - St Vibiana - 1876-1976 - 73 p. - CAPH - BX4603.L27 S258
CA Los Angeles - St Vibiana - 1876-1976 - - PPHC001 -

The Library copy of St. Vibiana's parish history is cataloged under BX4603.L27 S258 in the research collections, and may circulate. The University Archives copy of the same work, contained in their Printed Parish History Collection, does not circulate. Uncataloged copies of Library parish histories, housed in the Department of Special Collections, do not circulate. Access to any uncataloged works listed in this directory may be obtained by rfequesting service from the Archives or the Department of Special Collections.

With reference to dates, some entries may indicate a year followed by the month and day. For example:

STATE/CITY - PARISH - DATES - ETHNIC GROUP - LOCATION - CALL NUMBER
IL Chicago - Queen of All Saints - 1962/0826

indicates material for Queen of All Saints, Chicago, Illinois, dated August 26, 1962. The abbreviation nd under column Dates indicates that no date has been specified.

In some instances, entries indicated newspaper accounts of parish histories. Entries for newspaper accounts may appear thus:

STATE/CITY - PARISH - DATES - ETHNIC GROUP - LOCATION - CALL NUMBER
IN South Bend - St Patrick's - 1885-1985 - Irish - p.2 - CAPH - Harmonizer 23 Mar 1986

The above entry indicates that the Library holds a newspaper article on St. Patrick's Church, South Bend, Indiana, which appeared on page 2 in the Harmonizer, the diocesan newspaper, on March 23, 1986. The following abbreviations have been used for newspapers:

Cath Her - - - Catholic Herald
Cen WA Cath - - - Central Washington Catholic
Harmonizer - - - Harmonizer (Fort Wayne - South Bend)
HI Cath Her - - - Hawaii Catholic Herald
Inland CAth - - - Inland Catholic
Michiana - - - Michiana (South Bend Tribune)
Miss Today - - - Mississippi Today
N TX CAth - - - North Texas Catholic
OG STan Ex - - - Ogden Standard-Examiner
SB Trib - - - South Bend Tribune
S TX Cath - - - South Texas Catholic
Todays Cath - - - Today's Catholic
Visitor - - - Visitor (Our Sunday Visitor)

The following codes have been used to indicate location:

Library:
CAPH - - - Catholic Americana Parish History Collection

Archives:
CALT - - - Diocese of Altoona-Johnstown PA
CCHI - - - Diocese of Chicago, Illinois
CDET - - - Diocese of Detroit, Michigan
CERI - - - Diocese of Erie, Pennsylvania
CHAR - - - Diocese of Hartford, Connecticut
CMIP - - - Michigan Parishes
CSET - - - Robert Seton Collection
MICRO - - - Microfilm
PGEN - - - General Pamphlet Collection
PFCL - - - Printed Frank Clark Collection
PPHC - - - Printed Parish History Collection

The compilers wish to acknowledge with much gratitude the most generous response of our benefactors for requests for parish histories since the publication of the first edition of this work in 1986. Their sustaining support and continuing contributions are very much appreciated.

Charlotte Ames
January, 1988

= HELP =