---

---
Lemonnier Library
(contemplated)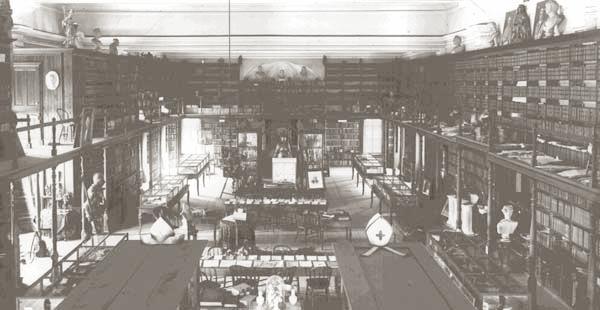 Lemonnier Library Reading Room, Main Building, ca. 1895
---
After a first-rate faculty, the most necessary element of a university is its library. In the early days at Notre Dame there was not much call for a library because by far the majority of its students were "preps." Father Lemonnier, President from 1872 to 1874, seems to have been the first to recognize the importance of a library. Until 1873, there was no general library for the students' use. Each of the numerous literary societies on the campus had its own little collection, and several of the different departments of the University had modest accumulations of textual works. If a student wanted to read something outside of his textbooks, he generally asked his professor for one of his own books and it was gladly loaned to the boy.

It was Father Lemonnier who had the happy idea of gathering all these separate collections into one general library and of enriching this as much as the University finances and the charity of benefactors would permit. He called it the Circulating Library. For the most part, these books were made up of the English classics. When Father Lemonnier died in 1874, the students, prompted by their affection for the deceased president, asked that the name be changed to the Lemonnier Library. It was a happy and an appropriate gesture, honoring the man who had brought the library into existence. With a keen eye for choosing the right man for the right postion, Father Lemonnier, before his death, appointed Professor James F. Edwards to take charge.

"Jimmie" Edwards was twenty-four years old at that time. He was from Toledo, Ohio, and had come to Notre Dame when but a lad of ten years. He lived to pass the next fifty years at Notre Dame as professor of history, head of the Lemonnier Library, and founder of Bishops' Memorial Hall. He had a passion for collecting books, documents, and objects of historical interest. He spent his vacations constantly traveling from one end of the country to the other, hunting out, collecting, begging, and buying for the Library and for the Memorial Hall.

By 1879, Edwards had collected about ten thousand volumes. Then the morning of April 13, 1879, he saw them all disappear in flames and smoke. Besides the volumes in the library, various professors and priests lost upwards of twenty thousand books of their own. This heart-breaking blow might well have discouraged a less stout-hearted man. Edwards was about twenty-nine at this time, and although the loss of documents and of manuscripts and rare books was irreparable, the fire was to him more a challenge than a defeat. In replacing the losses, Edwards knew he would have to rely more on the charity of his friends than on University funds. He had lots of friends, and hardly a week passed without a sizable list of gifts being, announced in the pages of the Scholastic. Book publishers also made substantial donations to help him get a start.

When the new Main Building was erected, Edwards spoke to Father Corby about getting. the whole of the third floor of the front projection for his Lemonnier Library. Father Corby consented. This room, one hundred and thirty feet by fifty, had shelves along the walls from floor to roof, with a gallery around the entire space permitting access to all books without using ladders. Glass cases displayed rare manuscripts or curios which Edwards had collected.

Edwards was doing such a fine job of collecting books and documents free of charge that, no doubt, the University thought he needed no special funds. But Father Walsh, who shared Edwards' enthusiasm for books) secured from the Board of Trustees in 1882 a grant of five hundred dollars. This sum seems very small indeed, but it was the beginning of a regular annual budget for building up the Library.

Edwards was very temperamental. There were some "precious" things about his character. He had moments of deep despair, as he had days, also, of terrific elation. In 1889 Edwards offered the first in a long series of resignations. He felt that his work was not appreciated; someone was obstructing his plans. Father Walsh was a man of goodness and tact, and he refused to accept Edwards' resignation. He said to him: "Jimmie, you ought to take a year off. You ought to travel. I should like very much to see you go to Europe. You will see new things there. You will come back refreshed and able to start again." Edwards was delighted and went off to Europe on a collector's spree.

Edwards was one of the first to realize the historical value of the episcopal archives in America. Many of the bishops of the time were too busy with everyday problems of building churches and schools to pay much attention to the correspondence of their predecessors and the missionaries of the Northwest. Edwards wanted to gather all these manuscripts at Notre Dame and to make the University the center of a great collection of all materials on American Catholic Church history. Although it was impossible to convert every bishop to his view -- for many had a historical sense which prompted them to keep what they had -- Edwards was astonishingly successful.

Edwards, while still a student, had conceived the idea of a Bishops' Memorial Hall as a national monument to the American hierarchy. The principal feature of the hall was a collection of portraits of all the American bishops, past and present. To gather a complete collection was a tremendous undertaking Many of the early bishops were so poor that sitting for portraits was a luxury with which they had easily dispensed. A good number of them lived before the development of photography. Others had short episcopates and were soon forgotten, or their belongings were lost or scattered. But the collector's instinct was in Edwards' blood. It not only sought perfection but inspired ingenuity. The tireless energy of Edwards was worthy of the task, and over the years he succeeded in obtaining at least some meager record of every bishop. Portraits, crayons, engravings, photographs, daguerrotypes, miniatures in ivory, busts or death masks -- everything which bore a likeness of an American bishop or archbishop was hunted out. When he failed to get a portrait, he had one made from one or more of his other sources. Gregori was a great help to him in this, making many of the portraits from the materials furnished by Edwards. The unique collection organized by Edwards was hung on the walls of the large cruciform gallery of the Main Building. Supplementing the collection of portraits was a large collection of episcopal and clerical souvenirs: autographed letters, books, pamphlets and pastorals published by them, histories and biographies of the American clergy. Glass cabinets extending for two hundred feet in length displayed mitres, crosiers, episcopal rings, pectoral crosses. This proved to be one of the principal show places of the campus and was a worthy monument to the extraordinary collector who assembled it.

-- Notre Dame -- One Hundred Years / by Arthur J. Hope, C.S.C.
---
The hall is so elaborately fitted up that one is surprised to learn that the present location of the Library is but temporary. Yet such is the fact. The plans have already been drawn for the "Bruté Memorial Hall"; and when completed this structure will be one of the most convenient and imposing of its kind. The design is unique, the plans being a modification of those that were used in the construction of a famous building in Munich.
-- Notre Dame Scholastic 23 (1890) : 632.
---
[The library building south of Sorin Hall, contemplated in 1890, never materialized.]