---

---
Post Office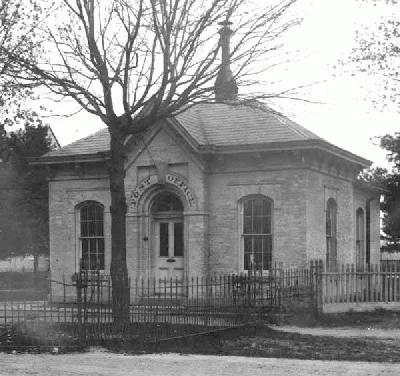 . . . there was the post-office, a small brick building to the south of the college, on the road that leads to South Bend. It was in 1850 that Father Sorin made his first attempt to secure a postal station for Notre Dame. The effort failed. It was asserted that Notre Dame was so close to South Bend as to make a post-office at Notre Dame unnecessary. New requests were made to no less a personage than Henry Clay. Thanks to his support, and to that of Congressman Fitzgerald of Niles, the request was granted on January 6, 1851. Father Sorin was made postmaster, a position which he held until his death. After the establishment of the post-office at Notre Dame, the four-horse mail coaches stopped at Notre Dame three times a week en route from Logansport to Niles.

The post-office at Notre Dame was a great convenience for the college. It also brought in some welcome revenue. Father Sorin wrote: "The regular passage of the mail coach under the college windows makes the college better known, and causes the public highways leading to it to be carefully maintained." This interest in the upkeep of the roads around Notre Dame prompted Father Sorin to seek and gain appointment as Inspector of the Public Ways.

In those early days, when the struggle to survive as a college was so bitter and keen, Father Sorin and his subjects were unbelievably artful in devising means of income. The post-office is only one instance. The priests and Brothers used every device to bring in a few extra dollars. It meant the difference between life and death for the institution.

-- Notre Dame -- One Hundred Years / by Arthur J. Hope, C.S.C.
---
This Post Office is acknowledged with gratitude as a favor obtained from the government through the influence and good offices of the late Hon. HENRY CLAY, whose memory is ever cherished here as that of a benefactor of the Institution and the neighborhood. To the office we will drive, for here we shall find the polite Assistant Postmaster, who ever takes real pleasure in showing all visitors every thing of interest about the premises.
-- 1865 Guide to N.D. and St. Mary's