William Tecumseh Sherman Biography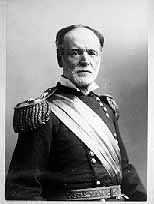 William Tecumseh Sherman was born in Ohio in 1820. Sherman's father died when the boy was nine years old, and he was raised by Thomas Ewing, a prominent Republican politician. He graduated from West Point in 1840 and married his step-sister Ellen.
Sherman's early military assignments were all in the South, and when the Civil War broke out in 1861, he was superintendent of a military school in Louisiana. Although Sherman was sympathetic to slavery, he resigned his position out of loyalty to the Union and rejoined the Union army. After a rocky start, Sherman distinguished himself at the Battle of Shiloh in April, 1862. Early in 1864 he was given command of the Department of the Tennessee, while his friend Ulysses S. Grant went East to assume command of the entire army. On May 1, 1864, Sherman left his base in Chattanooga and out-maneuvered Confederate Generals Johnston and Hood through north Georgia. He entered Atlanta on September 1, 1864, and the timely victory helped assure the re-election of Abraham Lincoln.
 On November 14, Sherman boldly cut his supply lines from Chattanooga, destroyed railroad yards and public buildings in Atlanta, and set out across Georgia with 62,000 seasoned troops. The "March to the Sea" cut a path of destruction 60 miles wide to the Atlantic coast. Sherman captured Savannah on December 23, declaring it a "Christmas present" for Lincoln. He then turned north, capturing and burning Columbia, South Carolina. Sherman received the surrender of General Johnston near Durham, North Carolina, in April 1865, a few days after Robert E. Lee surrendered at Appomattox. His terms were so generous that they were rejected in Washington, and Sherman was accused of treason.
Sherman spent 18 more years in the Army, part of the time subduing Plains Indian tribes, later as Commanding General. After his retirement he became a popular figure on the lecture circuit, where he coined the phrase "War is Hell." He died in New York in 1891 and was buried in St. Louis's Calvary Cemetery.
Notre Dame and General Sherman
Although Sherman was an agnostic, his wife Ellie was a pious Catholic. Her favorite cousin was Mother Angela, a Holy Cross nun who ran a hospital for Sherman's wounded soldiers in Memphis, Tennessee. (Angela Boulevard in South Bend is named after her.) Ellie was also acquainted with Notre Dame's founder, Rev. Edward Sorin, C.S.C. In 1862 she enrolled her son Willy as a minim at Notre Dame and sent her daughter Minnie to St. Mary's College. Sadly, Willy died in October, 1863, while visiting his father in Memphis. Notre Dame's Father Joseph Carrier, C.S.C., was at Willy's bedside when he died, and his presence was much appreciated by the Shermans.
In September 1864, Ellie moved her entire family to South Bend and enrolled her son Tommy in the Notre Dame minim program. On June 7, 1865, General Sherman spoke at the commencement exercises. Moved to tears by stories about his beloved Willy, Sherman promised that the boys of Notre Dame would always be dear to him. Sherman's granddaughter, Eleanor Sherman Fitch, donated family papers, photographs, and memorabilia to the Archives of the University of Notre Dame prior to her death in 1959. The photographs on display in this exhibit have been selected from the Sherman Collection and were publicly exhibited at the Snite Museum for the first time.