"Let us be one, just as our Lord Jesus Christ asked this unity for us of His Father. It is only on this condition that God will give us His own strength. This strength it is which flows from charity, mutual harmony, oneness of mind, and the sweet bonds of brotherly love."
(Moreau Circular letter 153).
---
Father Moreau's dedication to the Cross of Christ led him to promote a devotion in France that has since then established itself so well that we may now run the risk of taking it for granted. In the early years of his Society of Holy Cross he and his priests would go from parish to parish teaching people the Way of the Cross.

Those who have studied Father Moreau's religious devotion recognize his dedication to the Holy Family and to the Cross, and call attention to other influences as well. He was influenced by the practices of the Jesuits, especially by the Spiritual Exercises of Saint Ignatius Loyola. He was influenced by the Sulpicians who educated seminarians and formed them spiritually. He was influenced by the spiritual writings of Saint Alphonsus Ligouri and Saint Francis de Sales. He was influenced by retreats with the Trappists and by liturgical studies of the Benedictines. He drew what he considered the best from various religious traditions, and he left a well-rounded and distinctly Catholic sensibility as a religious legacy for his priests, brothers, and sisters, and for their students all over the world.
---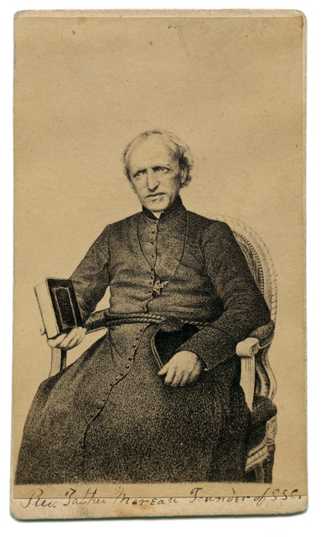 timeline
1799 Moreau born (Feb. 11).
1821 Moreau ordained a priest.
1823 Moreau teaches philosophy at the minor seminary of Tessé. He meets Father Dujarié, founder and superior of the Brothers of St. Joseph.
1831 Father Dujarié chooses Moreau to help with the Brothers of St. Joseph.
1833 Moreau helps found a Good Shepherd Convent in Le Mans and serves as its superior. He founds the Association of the Good Shepherd so that ordinary people can make small donations regularly to help support the work of the sisters.
1835 Moreau appointed assistant superior of the major seminary. Dujarié resigns and Moreau becomes superior of the Brothers of St. Joseph. He convinces his bishop to accept his plan to add an organization of missionary priests to the society of brothers.
1839 Association of the Good Shepherd has 70,000 members.
1840 Moreau writes a circular letter describing his hope that the Auxiliary Priests of Le Mans and the Brothers of St. Joseph might joint to form a religious congregation. Moreau and four other priests take vows.
1841 Moreau starts an associated organization of sisters.
1857 Rome recognizes the Congregation of Holy Cross.
1861 Moreau writes circular letter on devotion to St. Joseph (February).
1867 Moreau's spiritual testament (13 June).
1873 Moreau dies (20 January).
© Copyright 2007 by the Archives of the University of Notre Dame.
---