Father Moreau's Visit to Notre Dame du Lac
[In August of 1857 Basil Anthony Moreau, founder and Superior General of the Congregation of Holy Cross, made his only visit to the University of Notre Dame and Saint Mary's College. Here is his own description of the visit.]
Arrival at Notre Dame
. . . Wednesday, the twenty-sixth, without even the slightest accident, thanks to the merciful Providence which has constantly watched over my trip, I arrived at the place which I have so long desired to visit. I have seen very noticeable proofs of God's Providence in the ease with which we escaped many perilous railroad situations which could have endangered our lives. . . . my arrival caused as much joy as surprise, for I was not expected until the next day. I even arrived ahead of Father Granger who, with a delicate thoughtfulness I had never anticipated, had gone to Detroit to meet me.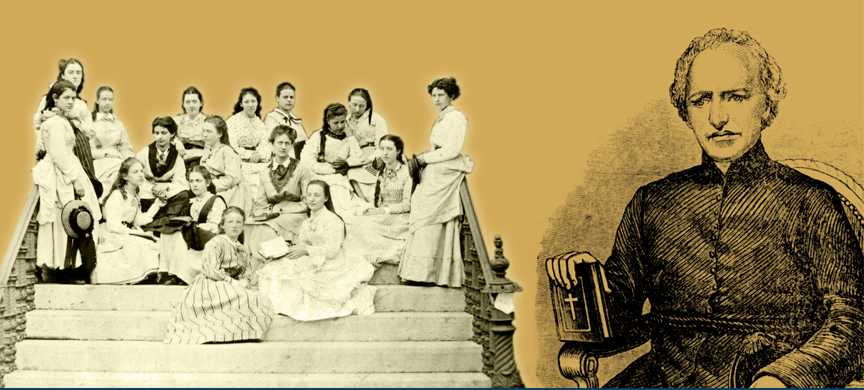 I descended from the carriage at the post office, and my presence caused no little astonishment to the Irish Brother who was busy sorting mail. The news of my presence soon spread. The large church bell and the twenty-two others that make up the magnificent Bollée chimes began to ring out. Just as at Saint-Laurent, there was much running about and everybody was asking: "Why are they ringing the bell? Why all the excitement?" "Some bishop has just arrived," Sister M. Eugenie told Sister M. Alphonsus Rodriguez. "I am sure it is our Very Reverend Father," the latter replied.
A large group was already crowding around me, and for a long time I could do nothing but give them my blessing and embrace them. The surprise of my arrival made the excitement all the more lively and widespread. We then went to the church, where I intoned the Te Deum and celebrated a Mass of thanksgiving, at which everyone hastened to assist.
The Superior [Father Sorin] who had been ill at Laporte, from the fatigue of preaching the Sisters' retreat in Chicago, arrived some hours later. I went with him and the other brethren to St. Mary's, which is about as far from Notre-Dame-du-Lac as the Solitude of the Savior is from Notre-Dame de Sainte-Croix.
We had gone scarcely half way when we saw the entire Community of Sisters lined up in procession with the boarding-students in the lead, and after them the orphans carrying their banner and holding flowers in their hands. It was a touching scene when they all fell on their knees to receive the blessing of the poor pilgrim, and then intoned the Magnificat, which was followed by several French hymns. Then it was that tears betrayed my emotion! I marvelled at the work of God and blessed His Providence. On my return to Notre-Dame-du-Lac, where I had called a general meeting of the two communities, I proceeded to the installation of Reverend Father Sorin as Local Superior and Vicar of the Province.
© Copyright 2007 by the Archives of the University of Notre Dame.
---