---
To See Ourselves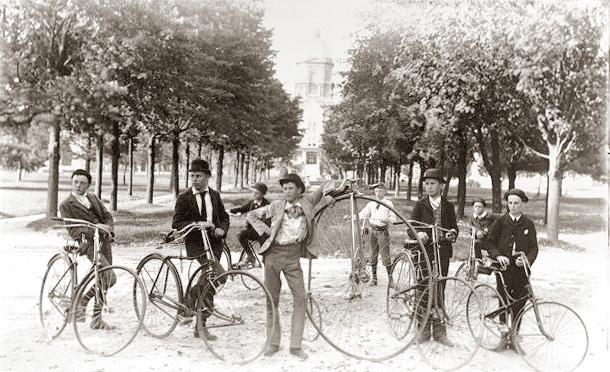 Minims with Bicycles on Main Quad, 1890s
---
Brother Gatian's Journal (1847-1849)
One of the founders of Notre Dame takes notes on early events.
Guide to Notre Dame and St. Mary's Academy (1865)
An anonymous author provides a florid and opinionated account.
Arthur J. Stace's The University of Notre Dame (1885)
Professor Stace climbs the Dome to have a look around.
The Recreation of a Seminarian (1905)
Father John W. Cavanaugh watches seminarians at play.
Notes on Notre Dame
Father Cavanaugh's notes from a manuscript in the Archives.
Inner College Problems (1917)
Father James A. Burns describes how colleges have changed.
Father Zahm (1922)
Father John W. Cavanaugh remembers
"the greatest mind produced by the University in its long career."
Daniel E. Hudson, C.S.C.: A Memoir (1934)
Father John W. Cavanaugh tells the life story of the Holy Cross Father
who edited The Ave Maria at Notre Dame from 1875 to 1928.
Academic Development: University of Notre Dame (1960)
Father Philip S. Moore investigates the evolution Notre Dame's curriculum.
---
Episodes in the Story of Notre Dame