Notre Dame Archives
---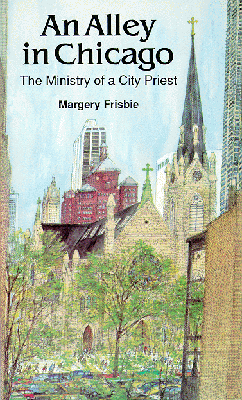 An Alley in Chicago
The Ministry of a City Priest
Margery Frisbie
__________________
When I shall be dead,
tell the kingdom of the earth
that I loved it much more
than I ever dared to say.

—Georges Bernanos
__________________
---
Acknowledgments
__________________
This book is based largely on a series of interviews with Monsignor John Joseph Egan, about one hundred hours in all. I am in debt to him and to his administrative assistant, Peggy Roach, for their overwhelming willingness to further the cause of the book in any way they could. There was nothing they could do that they were not willing to do.
Author/columnist Georgie Anne Geyer, long-time friend of Monsignor Egan, showed her devotion to him by taking the manuscript on flights to several continents, meticulously editing as she flew. Her suggestions to add here, rip out there, dramatize in places, all seemed on target to the grateful author. People willing to contribute interesting sidelights on Monsignor Egan's life are too numerous to mention, but those who were willing to interrupt their busy lives for lengthy interviews must be thanked: Rev. Arthur Brazier, Rev. James Burtchaell, Richard Conklin, Patty Crowley, Mary Dowling, Harry Fagan, Tom Foran, Tom Gaudette, Rev. Joseph Gremillion, Rev. Theodore Hesburgh, John Hill, Patricia Hollahan Judge, Bishop Timothy Lyne, Edward Marciniak, Rabbi Robert Marx, Nina Polcyn Moore, Kathy Pelletier Moriarity, Rev. Philip Murnion, David Ramage, Mary Louise Schniedwind, Evelyn and James Whitehead.

In an interesting reversal of role, my husband Richard to whom this book is dedicated did much of the basic drudge work: editing, spellchecking, printing out endless revisions, and holding the author's hand both literally and figuratively when it was necessary.

"Writing," Graham Greene once said, "is for the most part a lonely and unsatisfying occupation. One is tied to a table, a chair, a stack of paper." When one has a chance to work with Monsignor Egan and those who have shared his life, writing has its compensations. It is a more satisfying and less lonely occupation.
---
The Title Sunday Doorposts is adapted from Doorposts, also by Timothy R. Botts, published by Tyndale House Publishers.

Scripture taken from the New American Standard Bible, ©1960, 1962, 1963, 1968, 1971, 1972, 1973, 1975, 1977 by The Lockman Foundation. Used by permission.

Scripture quotations marked (NIV) are from the Holy Bible, New International Version. Copyright© 1973, 1978, 1984 International Bible Society. Used by permission of Zondervan Bible Publishers.

Verses marked TLB are taken from The Living Bible© 1971. Used by permission of Tyndale House Publishers, Wheaton, IL. All rights reserved.

Verses marked TEV are from Good News Bible (Today's English Version) © American Bible Society. Used by permission. Copyright© 1991, Timothy R. Botts. All rights reserved.

Cover painting of Holy Name Cathedral, Chicago, by Franklin McMahon.
---
Copyright© 1991 by Margery Frisbie. All rights reserved.